31.5.2022.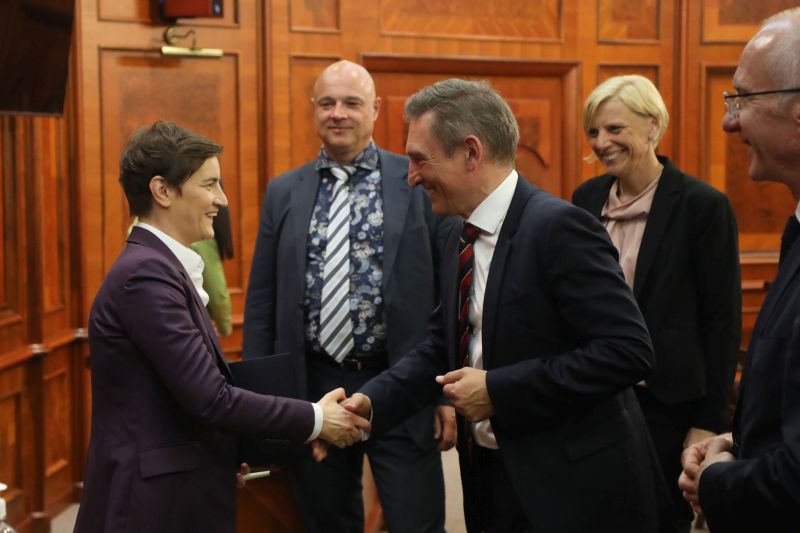 Prime Minister Ana Brnabic talked today with representatives of the German Economy Committee for the East about strengthening economic cooperation, business of German companies in Serbia and prospects for investing investors from this country in new areas.
Pointing to the fact that Germany is among the leading economic and foreign trade partners, the Prime Minister assessed that this country is one of the most important foreign investors in Serbia.
She pointed out that, thanks to the reforms it is implementing, Serbia is a reliable partner for German companies, which are, at the same time, an instrument of success for the Serbian economy in terms of work systems and technologies they bring to our market.
In addition, economic cooperation is increasingly including investments in the high-tech sector, which, as the Prime Minister explained, is one of the priority tasks of this and the future government of Serbia.
Representatives of the Committee of German Economy for the East assessed that the cooperation with Serbia is very good and that there is a positive growth trend, not only when it comes to the arrival of German companies in Serbia, but also in the quality of their investments.
The officials also discussed cooperation in the field of education, bearing in mind that Germany is one of Serbia's main partners in the development of the dual education system.
Potential areas of cooperation have been defined, such as energy transition, environmental protection and digitalisation.
Opinions were also exchanged on future steps that would further facilitate the business of German investors and contribute to future cooperation being even more successful.
In addition to the representatives of the Committee of the German Economy for the East, the meeting was also attended by Ambassador of Germany to Serbia Thomas Schieb.